INTERNET SERVICES
Aztec Internet have been providing web hosting and email since 1997 and have teamed up with ADS-Aztec to now provide Office 365 for business.
CREATIVE MEDIA & WEB DESIGN
We provide a branding and graphic design for printed media. responsive Wordpress websites and Woocommerce stores for your internet presence.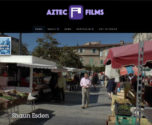 CORPORATE VIDEO SERVICES
With our sister company Aztec Films we provide corporate films and promotional video and with over four hundred films under out belt we have provided films extensively for the property industry.
PLEASE BE AWARE OF THE FOLLOWING EMAIL
Please be aware of a new Phishing email that's going around purporting to be from 1&1 Ionos asking you to "Retrieve Queued Message". It's not actually from 1&1 Ionos, it's spam with the purpose of stealing your email log-in credentials. As soon as you see it delete it.